I put this 2009 Planner together today for a friend. You know I just wish that this camera was working better it is getting old and it is not taking pictures like it use to. Anywho, I hope that you like this.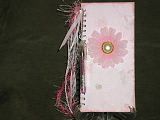 This one is a Address Book for another friend. I did find out that purple was a little hard to me to get some papers that I really liked. I used the Old World Stack by DCWV I love the paper in that stack then with some help with Distressed Ink~milled lavender~ I think it came out pretty cute.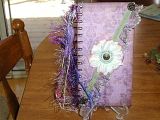 Thank you so much for looking I hope you enjoyed them......