I have been sick with this wonderful flu that is going around. My husband came home with it and he was so eager to pass it on to me ( lucky me) I must of used a good 4 boxes of Kleenexes good grief. I couldn't do anything the whole time that I was sick it has been the worse that I have been in years, I have been really blessed because I don't usually get sick I would like to think it's because of the garlic and onions that I eat all of the time. Thank goodness I feel loads better now and trying to get somethings done around here.
Before I got sick I did get a Composition Book done I really love the greens, blues and the browns. So what do you all think about it.....?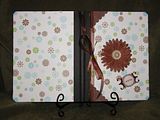 Thank you for looking.......