Some of you might be wondering what I have been up to. Yes, Mother's Day Cards lots of them, I really don't have pictures of them just yet but will by tomorrow. Why does it seem that we don't have enough time of each day to fulfill your day task...what has happen to our days. There just gone, puff like smoke I, for one would like to get the things done that I plan for the day is that so hard to ask for? Anyhow, I am making progress and I promise tomorrow I will post the cards....I just hope that the girls that I'm going to give giving them to are going to like them! That will be a huge surprise!
I will see you tomorrow. Huge hugs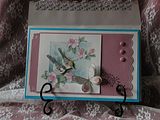 Their you have it! I hope that you like them?