We have some really great specials at TAC this month, if you order $30.00 you can purchase one of these stamps or order $60.00 before tax and shipping and you can get both. The stamp-of-month is the Elegant Arrows $9.95 retails for 12.95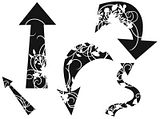 or
the Fun Frogs from the Vintage set $16.50 retails for 21.95.
I could not help myself and I had to have the Fun Frogs set they are so cute so when I recieved them I had to play....just for your FYI the big stamp measures 4" x 4 1/2" the next on is 3 1/2" x 2 1/2" so they are pretty good sizes. I didn't even get to the big one yet how cute is he? That will be the next card to play with.
ingredients:
I started with TAC white card stock #V290, also some green and lavender card stock for borders, TAC Toodle Loo #V 834 set, stamp set fun frogs stamped on white card stock with pink frame, organza ribbon, prima flowers, buttons from TAC that have been discontinued, bumble bee button.
Thank you so much for looking and I hope to see U soon.