My hubie had some things to do in the morning on Sat. so I did a few things that I wanted to do. Then it was time for us to do the running around town that he and I had to do. Will to much of my surprise he wanted to go to Lowe's to get some things that he wanted, OK that did it I had to get some more shelves to put over my desk. So I said hun I'm going to buy these shelves will you help me put them up, he was not happy about that at all because he knew that he was going to do most of the work and I was going to say up hun it looks so good and your doing such a great job. (that is my job right) Because his plans was not putting up shelves today. I'm so happy to say that they are up and I'm just loving it so much. Here are some pic's for you to see. Now keep in mind that I still have a long ways to go because I'm still giving things away. So here you go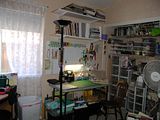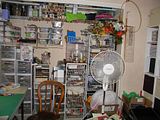 Those wire baskets are going to go I really do not like the look of them so I will put some shelves for my papers to take the place of them. I'm going to put a 4 drawer filing cabinet over by the door in place of that black thing with my punches on it. Under my craft table I'm going to get rid of those plastic files to give me more room under their. This is my craft room right now, what do you think about it? If you have any ideas just let me know ok...
Thanks for looking and see U soon.