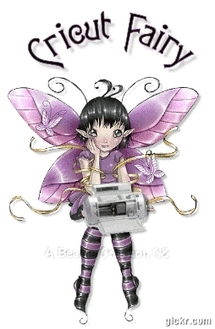 If your here just by passing by or your here doing the Blog Hop I'm here to share my part in the Blog Hop♥
This Blog Hop is presented to you from the Cricut Card Fairy Army
Do you need some last minute back to school ideas? How about ideas on scrapping those school pictures? Just like the school themed items ? Then do we have a great bunch of inspiration for you! So sit back, relax, grab a drink and snack and enjoy the Second Cricut Card Fairy Back to School Blog Hop!
******Please, please do not forget to post your comments, if you don't post a comment on all blogs in the Blog Hop and you are chosen you will be disqualified,
and we all want to win!!!! Right♥
My pick for the School theme is a set called
School Days
(
later in my post I will
have more info on how to purchase this set
). However, for now I will show you my cards. I used the Alphabet part and colored the backing to make a background paper, then I colored the school house part in & the apple tag with my
Copics ( R29,35, G02,05, E33,43, C5)
This card is also from School Days and again I used the alphabets for the background on a black card. Pencil and apples (I love apples) again used my copics to color (R27,29,35, G02,05, Y00,08,35, E33,43,57, R20, RV23,34)

I will be giving out prizes everyday of the blog hop YOU MUST LEAVE A COMMENT to have a chance to win I will draw one winner per day. Please don't forget to leave your email so I can let you know if you won.
Today's prize will be a bag of assortment scrapbook supplies so you don't want to miss out on that. Make sure you stop by tomorrow for the next chance to win a prize

Our second blog hop is sponsored by the very talented and generous Regina from CUTTING CAFE.
(
this is where you can purchase the set of School
Days
at the Cutting Cafe
). She cranks out amazing designs almost daily. I am in love with almost all of them and can't wait to get the Welcome Fall and a personalized stamp from her! She is also very generous. She has donated a great grand prize for this blog hop AND gave us fairies images to work with! How sweet is she?
So while you are hopping and getting lots of inspiration make sure that you leave comments on all the blogs to be entered to win THREE CUTTING CAFE STAMP SETS OF YOUR CHOICE from the wonderful Regina. I will check to make sure the winner that random.org picks has commented on ALL the blogs and post the winner one Monday afternoon! Good luck!
Now head off to the next stop:
Scrappy Canuck
http://acrappycanuck.wordpress.com/
If you get lost please come back here and follow the links listed below. Happy hopping!
Here is the order: